Out of no where..out of the blue..or better say, teda angin teda ribut..I'm suddenly in the running to win the Malaysian SuperMummy Blogger award...! I seriously have no idea why I'm nominated here..!! heheeeeee
Ok! To cut my story short (Too late to blog long...long now), if you think i deserve to win that very prestigious (aiseh!!!!) award, why not vote for me and let me be your SuperMummy Blogger...! Can?? Of course you can click as many vote as you can..no harm with that...! But i think i better force you guys to vote for me lah kan!!!! :D So guys...VOTE FOR ME YA!!!! All you have to do is, click the 'Malaysian SuperMummy Vote for me' at my sidebar, and i probably on my way winning that award????? Heheeee...I'm depending on you guys..
Oh..by the way...the voting period will be from 17th April until 30th April. Votes after the mentioned date will not be counted..!
Hmmmmmm...i think I'm missing something here kan??? Well..i should probably give you few reasons why i should be voted to win the award. Hehe Takkan no nothing to tell right?? Ok lah! Why I should be your SuperMummy???
1) Because I'm a Mommy and I'm a blogger.. 2) I'm a working mommy who happened to blog whenever I'm free to do so.. 3) I'm a working mommy, who blog, and crazy enough to further my study while holding the title of 'WIFE' to my hubby, and Mommy to my dear Kids at the same time. 4) I'm a working mommy who has two posts in my office which to handle all the related matters on admin stuffs and operation dept. Dangs sekali!! 5) I'm a crazy mommy who sleep very little now..hahaha!! Blogging + studying (now pun want to study lah nie).. 6) I'm also a blogger who love to shop online and was soooooooo crazy about it!! (AIK???? ini pun reason kah????) Eh...enough lah reasons for you to vote me..! Heheee If you think I deserve the award..just vote me lah....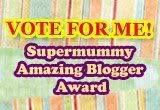 Thank you guys!! ~Nite~